Azeri POW says didn't know most of his unit when attacking Karabakh – PanARMENIAN.Net
https://ift.tt/3jqH9uK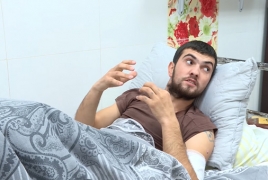 October 24, 2020 – 12:23 AMT
PanARMENIAN.Net – An Azerbaijani prisoner of war receiving treatment at a military hospital in Nagorno- Karabakh has said that he knew almost no one from his unit when they launched their offensive against the village of Talish in Karabakh.
The soldier identified as Nuraddin Yolziev Bakhtiyar oglu, said that heavy battles were taking place when he and several others were injured.
"I could not feel my arm and leg. I asked our soldiers and commanders for help but they did not evacuate me from the battleground. I knew almost no one. Most members of our group were not Azerbaijanis, they spoke a different language. I spent a day in a gorge, and was then taken by Armenian soldiers to their positions. An ambulance then brought me to the hospital," he said in a video published by David Ghahramanyan from the Armenian Unified Infocenter.
"There has been no pressure on me, I am being treated well here. I have been in the hospital for almost 20 days now. I was in pain at first but now I am getting better thanks to the doctors. I am satisfied with the food."
Azerbaijan, with help from Turkey and Syrian and Libyan mercenaries deployed by Ankara, started a war against Karabakh (Artsakh) in the morning of September 27. The Armenian side has reported deaths and injuries both among the civilian population and the military. Foreign and local journalists too have been injured in Azeri shelling of towns and villages.
lrahos
via "Armenian Unified Infocenter" https://ift.tt/3l0Zfoh
October 24, 2020 at 01:40AM